Retro Reading Vol. 11: Wrestling 85 – Summer 1985
RETRO READING Vol. 11
WRESTLING 85 – Summer 1985
OPENING BELL: Stu Saks thinks that wrestling is taking on a new shape beginning in 1985, that of the more conditioned athlete. For every 10 wrestlers who look like Ricky Steamboat there will be only one who looks like Adrian Adonis. That's not to take anything away from Adonis, who is a very skilled wrestler. There will always be a place for someone like him. But, the ones who look like him, and aren't as skilled, will be extinct. Now, more than ever, people are getting into wrestling because they want to be wrestlers first and foremost. Wrestling used to be the place where those who couldn't make it in the NFL, NBA, etc. would wind up. Former NWA Champion Kerry Von Erich says that if you put 10 wrestlers of equal skill in a row, the one who is in the best shape will be the one that the money lands on. Over time, it will be very difficult for less skilled and less conditioned people to become wrestlers, and eventually there won't be any of them.
FEEDBACK: Joanne Ward from Greenfield, WI writes in to explain why she likes the Road Warriors. They come to the ring, beat up their opponents, and then leave, and that's how wrestling ought to be. If she wants to be entertained, she'd go to a nightclub. She's seen wrestlers lose matches because they're distracted, she's seen wrestlers strut around the ring and shake their behinds. She applauds Hawk and Animal for knowing who they are and what their job is. Joanne Schneider from Houston, TX was dreading the idea of Terry Taylor losing a loser-leaves-town match to Adrian Street. But, the more she thinks about it, she realizes that it's the natural progression for wrestlers. Most wrestlers want to be at the top, and doing that means wrestling as many different types of wrestlers as possible. Fans ought to not think of the wrestlers 'abandoning' them, but rather accept the fact that they're making a necessary career move. Cynthia, Wendy, and Linda Stevenson all from Chicago, IL write to remind everyone that the first anniversary of David Von Erich's death is coming. Their sadness has been replaced with pride, about how great David was. They know how painful it must be for his family, but they want them to know that the fans remember. Lisa Ponder from Chidester, AR enjoyed the feature from last issue on the Rock 'n' Roll Express, she feels like it's the first article that really made people know exactly who Ricky and Robert really are. Richard Kline from Mansfield, OH thinks that Marshall Ellis' letter from the previous issue is rubbish! The Masked Superstar lost his Georgia State Title to Wrestling II, and suffered one humiliation after another to him. He thinks Wrestling II is a legend and has done more for the sports that the Superstar ever could. Tammy Hicks from Boswell, OK is still a fan of Chris Adams. She thinks he's the same wrestler that he was when we was teaming with the Von Erichs, only now he's better. Gary Hart has managed some great wrestlers like the Great Kabuki and Gino Hernandez, and now Chris Adams is part of that list.
NEWSLINE: "The War To Settle The Score" took place on February 18th in New York City at Madison Square Garden, and it was one of the wildest nights of Garden wrestling in recent memory. "The War" was between Hulk Hogan and Roddy Piper, over the fate of the Rock and Wrestling Connection. Piper is vehemently anti Rock 'n' Roll, and recently smashed a gold record over the head of Lou Albano and gave Dave Wolff (Cyndi Lauper's manager) a power slam. The match was broadcast on MTV. Piper was seconded by most of the rulebreakers in the WWF, including Paul Orndorff, David Schultz, Bobby Heenan (who stated that MTV ought to stand for 'Music To Vomit by'), and Nikolai Volkoff. Hogan was backed by Lauper, Wolf, Albano, Ted Nugent, Dee Snyder, Tina Turner, and Little Richard. The match ended in a double disqualification after the referee went down and Paul Orndorff tried to attack Hogan, only for Mr. T (seated in the front row) to come to Hogan's rescue.
Pro Wrestling Illustrated Presents 'Lords of the Ring – Superstars and Superbouts' is the title of a new wrestling video cassette that should be available for purcahse or rent by the time you read this. It's a one hour program hosted by Gordon Solie and Bill Apter, taking a serious look at the history of wrestling. It includes footage of today's starts like Ric Flair, The Road Warriors, and Kerry Von Erich, but also past stars like Gorgeous George, and includes rare footage of Harley Race winning the NWA Title from Dory Funk Jr.
Eddie Gilbert is now calling himself "General Eddie Gilbert" and has enlisted Plowboy Frazier, Jerry Bryant, and "Iron" Mike Sharpe. Candi Devine is headed for the AWA, where the women's division has been heating up lately. Billy Jack Haynes is headed to the Pacific Northwest for two months, then will be touring Japan, and then he plans to wrestle in Florida. Jimmy Hart was banned from the Mid-Southern Region, and is now managing Greg Valentine in the WWF. Ricky Steamboat and King Kong Bundy are both new to the WWF. Magnum TA has his sights set on Wahoo McDaniel and the United States Title, Magnum has been winning his matches in under a minute recently. Ivan Koloff and his nephew Nikita have signed several contracts to wrestle the NWA Tag Team Champions, Dusty Rhodes and Manny Fernandez. Mr. JR is a new manager in Georgia, and he's already brought in Abdullah the Butcher, Scott Irwin, and Kareem Muhammad, along with a 400 lb man that goes by the name of "Siegfried." Jimmy Valiant is back in the Mid-Atlantic area. Tony Atlas has been shining lately in the WWF. His head has at least, because Tony has shaved it bald.
IN THIS CORNER: Peter King has noticed that the "in" thing lately seems to be going to watch wrestling at Madison Square Garden. On February 18th some of the spectators were Andy Warhol and Billy Squier. They weren't there to watch wrestling, they were there to be seen doing the "in" thing. Soon enough, they will move on, and so will all the attention. The people who usually watch MTV aren't there to watch wrestling, they'd rather watch a heavy metal video where a naked girl is burned alive. Soon enough, Andy Warhol and his friends will move on. But wrestling will be just fine. The Garden has been selling out for years and years now. The sport will outlive Andy Warhol, MTV, and Vince McMahon. It's when the promoters stop trying to promote to *YOU* the wrestling fans, that wrestling will be in trouble.
MANAGER'S FORUM: Percy Pringle's mother always told him that good things come in bunches, and if he keeps his eyes open, and his mind clear, then when opportunity knocks he'll be there to seize it. He's doing just that with the great stable of wrestlers he manages it. Starting with the Missing Link. Wrestling has had it's share of wild men, but they were always mismanaged and left to their own instincts, which often betrayed them in the ring. Percy has harnessed the Link's power and instincts, and made himself necessary for the Link for guidance, food, drink, and jellybeans (he loves jellybeans). Soon, all of wrestling will bow before the Link. Rick Rude has already captured the Southern Title, and he's told Percy that the best thing he ever did was take him on as a manager. The ease that Rude beat Pez Whatley showed that "Pistol" Pez was really just a squirt gun. The Pretty Young Things, Koko Ware and Norvell Austin, have been toiling for years in the sport. They sweat more during a workout than most people do in a lifetime. Under Percy's genius, the PYT's will rule tag team wrestling. Why doesn't he manage more wrestlers? Because he has loftier goals. He wants to drive Dutch Mantell, Dusty Rhodes, and the Freebirds out of wrestling. After the Link, Rude, and the PYT's do that, then Percy will turn his attention to other wrestlers and titles.
CROSSFIRE: After Bob Backlund lost the WWF Title, he took some time away from the sport. He's since returned, competing for both the AWA and NWA. During his time away, he kept in shape by working construction. He chose to go with Pro Wrestling USA, because of the wider variety of opponents. While he was with the WWF, he was only wrestling one type of challenger. He would have loved to wrestle Jimmy Snuka, after he turned into a fan favorite, but the people in charge wouldn't allow it. He wrestled Flair in a WWF/NWA unification match, which went to a draw. But, there's a big difference between wrestling to win and wrestling not to lose. He's not too concerned with titles right now. He's enjoying his time not being a champion, and doing things he wasn't able to do when he was the champion, like experiment in the ring and take more risks.
SCOUTING REPORT: Randy Savage gets B in speed, an A- in strength, a B- in technical knowledge, and A in physical conditioning, a B in ring intelligence, and an overall grade of B. He's got the tools to take him very far in the sport, but by staying in the Mid-Southern area, he's not wrestling a very wide variety of world-class opponents, and this has hurt his career more than anything else. He must be more liberal with his traveling, if he wants to enjoy the success that his talents can bring him.
HEAD TO HEAD: Hawk vs. Animal Their manager Paul Ellering predicts mutual annihilation. They train to absorb as much punishment as possible, and when they get hit, the result that they get angry. A match between them would probably last for three hours. Jake Roberts predicts a draw, because of how similar they are to one another, and due to the way Paul has trained them. Baron Von Raschke says that Animal has raw power, and a mindset that he doesn't care what happens to him in the ring. Hawk is just as powerful, but has a little more technique. Animal may have it as well, and just opt to not show it. But, due to the technique, he thinks Hawk would win. Steve Keirn thinks Animal would win, because Hawk has always been a tag team wrestler, but Animal was wrestling singles a few years ago, and that kind of experience can't be overlooked.
SCOREBOARD: The Road Warriors and Paul Ellering wrestled to a double disqualification with Baron Von Raschke, and Curt and Larry Hennig in Las Vegas, NV. Michael Hayes defeated NWA Champion Ric Flair by disqualificaiton in Ft. Lauderdale, FL when Flair threw him over the top rope. WWF Tag Team Champions Barry Windham and Mike Rotundo defeated Iron Sheik and Nikolai Volkoff in Uniondale, NY at the Nassau Coliseum. NWA TV Champion Tully Blanchard wrestled to a double disqualification with Dick Slater in Charlotte, NC. The Midnight Express beat the Fantastics in Forth Worth, TX at the Will Rogers Coliseum thanks to some interference by Rip Rogers and Jim Cornette distracting the referee.
INTERVIEW 85: Sgt Slaughter is one of the most popular wrestlers in the sport today, but a few years ago, he was one of the most hated. Slaughter says that's because he was more concerned about his wrestling, and he kept his patriotic feelings to himself. But when the Iron Sheik started talking about America, he had his feelings known. As far as he's concerned, men like Sheik, Mr. Saito, Sheik Adnan Al Kaisee, the Koloffs, etc. should get on their knees and kiss the ground they walk on. They're lucky to be wrestling in the greatest country in the world. He left the WWF because he felt like he'd accomplished all that he could there. He'd have liked to wrestle Hulk Hogan for the WWF Title, but, that probably wasn't going to happen anytime soon. In Pro Wrestling USA, he can challenge for both the NWA and AWA Titles, and will be challenging Ric Flair in Baltimore. To prepare, he's been watching videotapes of Flair's matches, specifically his loss to Kerry Von Erich. He's also studied the figure four and is going to make sure that he's not put into position to be caught in it. Unlike the figure four, there's no way to escape or reverse the Cobra Clutch once it's applied. 1985 could be a very important year for him, gunning for the AWA and NWA Titles. He could have been very comfortable in the WWF, but he wants his career to keep moving forward. And, when he does win a world title, he'll be doing it for America.
CONTROVERSY MARS THE SARGE'S TITLE SHOT – Slaughter got his NWA Title shot on February 16th at the Baltimore Civic Center, and seemed to have the match well at hand. But, Slaughter threw Flair over the top rope and got himself disqualified. Slaughter isn't deterred though, he says that this was just his first shot at the title. Flair may have won the battle, but there's an entire war to win.
NIKITA KOLOFF: RUSSIA'S AMBASSADOR OF DESTRUCTION! Russia is a country with a long history of contempt for foreigners. Its history of leaders like Ivan the Terrible and Josef Stalin have defended a country larger than the combination of the United States and Mexico. This is the tradition that brought Nikita Koloff into professional wrestling. There wasn't a place for him in the amateur ranks, and what better way to damage a rival nation, and one of their most popular sports, than by sending such a man into it? Nikita Koloff plans to take over the entire sport of wrestling. Of course, this is a threat that's been heard time and again by many other foreign wrestlers. But, Nikita isn't just like any other foreign wrestler. His power is unmatched, he never seems to tire, and at the young age of twenty-four he's still years away from his peak. Indeed, Nikita and his uncle Ivan seem to be well on their way to taking the NWA World Tag Team Titles away from Dusty Rhodes and Manny Fernandez. There are times that even Nikita seems surprised by what he can do. He wrestled a match against Mike Davis, a junior heavyweight who probably had no business in the ring with Nikita, and Davis recalls fearing that he was going to be crippled because Nikita's movements were so fluid and powerful. But, Nikita backed off at one point, and then became enraged by the fact that he'd shown compassion. Many wrestlers in the Mid-Atlantic area are complaining about having to wrestle Nikita, and many others are arguing that it's their duty to teach him a lesson.
IN THE GYM WITH THE MODERN-DAY WARRIOR: HOW KERRY VON ERICH MAINTAINS WRESTLING'S BEST BODY: Kerry Von Erich looks at his body as though he's a sculptor. If his chest looks small and his waist is looking large, he's got to take some off of the waist and put in on the chest. The Von Erichs are very fortunate to have a high metabolism, Kerry and his brothers can pretty much eat what they want, when they want. Kerry isn't a heavy eater, so he eats several times per day. Usually he starts with egg whites, and when he gets tired of them, he switches to chicken, and then when he gets tired of that, he switches to fish. When you do that, you don't get filled up. People often ask him how he has the time to work out, between his wrestling commitments, and being involved in running a gym, as well as being in the vitamin supplement business. Simply put, when you need to do something, you make time. When working out, Kerry starts with forty-five minutes of aerobics to loosen up, and then gets to it. He never does more than fifteen reps, but tries to keep it between eight and ten. He wants anyone reading to understand that this regiment works for him, but you should always do what works for you. Ric Flair is in better shape than just about anyone else in the business, and he's gone for an hour with Ricky Steamboat, Barry Windham, and Billy Jack Haynes. Kerry has a lot of respect for Flair, wrestling him is an honor and pleasure, and Kerry wants nothing more than to have the NWA Title back around his waist.
GORGEOUS JIM GARVIN: "IT'S NOT MY FAULT I'M BETTER THAN RICK MARTEL!" – The problem with Jimmy Garvin is that people *want* to like him. He's a braggart with the mouth the size and with subtlety of a broken toilet. There's a certain twinkle in his eyes that makes him look approachable, as if you could have a beer with him and tell him your problems and he'd reply "I know what you mean." But, it takes one look at him to shatter that illusion. The way that he struts to the ring, with Precious on his arm, already gives the impression that he's won his match and manipulated thousands of people into joining his circle. One person that Garvin isn't fond of is AWA Champion Rick Martel, "Watching Martel wrestle is like watching grass grow!" Garvin considers himself the AWA Champion. He pinned Martel in Las Vegas, NV and left with the belt, but it was determined that Precious interfered, thus negating the pinfall. "Like a good buddy of mine, Clint Eastwood, is fond of saying: A man's got to know his limitations. In Martel's face, that's a full-time job!"
FABULOUS MOOLAH: "WENDI RICHTER IS GETTING SOFT!" – The Fabulous Moolah held the WWF Women's Title for twenty-eight years, and it all come to an end in Madison Square Garden. Even worse, it ended due to an entertainment dispute between Lou Albano and Cyndi Lauper. The match was dubbed "The Brawl to Settle it All." Albano managed Moolah and Lauper managed Wendi Richter. With the title win, Wendi Richter has always been a fine wrestler, but, people are wondering if the glamour that has come with her title reign is eroding her ability. Richter insists that it hasn't, but Moolah isn't so sure. She points out that every hour that Wendi Richter is working on a Cyndi Lauper music video is an hour that she isn't in the gym, or preparing for another title defense against Moolah or another challenger like Judy Martin. When it comes down to it, Wendi Richter's involvement in Rock 'n' Roll will accomplish two things, increasing her popularity and decreasing her effectiveness in the ring. If she wants to be champion for as long as Moolah, she'll need to decide about the value of that tradeoff.
THE PRIVATE SIDE: Rick Steamboat is one of the top wrestler in the Mid-Atlantic area, he's received several title shots at NWA Champion Ric Flair. He also owns and operates a gym with his family. At his home in Charlotte, NC, he doesn't have a lot of mementos and trinkets. He does have a trophy room. He enjoys playing guitar and working out, although his setup at home is basic. If he wants to do a more thorough workout, he can go to the gym. He also rides a ten-speed bicycle and has a pet parakeet.
YOU DECIDE: Should Lou Albano Be Trusted? For over twenty years, Lou Albano has defined the world "evil" in the sport of wrestling. He was one of the most successful, and vilified, men in the industry. He's led fourteen different tag teams to the WWF Tag Team Titles, and also managed both Magnificent Muraco and Greg Valentine to the WWF Intercontinental Title. Instead of mellowing with age, Albano seemed to get worse. He supported Roddy Piper when he was assaulting Jimmy Snuka and he attacked Cyndi Lauper and tried to credit himself for her popularity. But then, he changed his ways. He apologized to Lauper and gave her managed David Wolff the credit. He became a cochairman for the multiple sclerosis fundraising committee. In an interview with Inside Wrestling he apologized to the fans for all that he'd done. He managed Barry Windham and Mike Rotundo to the WWF Tag Team Titles, against a team that he formerly managed, Dick Murdoch and Adrian Adonis.
Reasons that he ought to be forgiven include the basic human notion of forgiveness, and the fact that his recent charity work certainly speaks volumes. He's also decreed that people like Hulk Hogan, Barry Windham, and Mike Rotundo are now his friends. Reasons to not trust him include his sordid history, and the fact that he might now know how to act as a fan favorite, and that will lead him right back to where he was. The fact that his change of heart could easily be a hoax, deception isn't a strange concept to him. There's also the possibility of temptation. He might have new friends, but that doesn't mean he doesn't still have some of his older ones.
The votes are in and the readers have voted Tito Santana as the greatest Intercontinental Champion by an overwhelming margin, Tito alone garnered 56% of the vote. The reasons for the vote include Santana's wrestling skill, his courage, and his good looks. One voter said that Santana ought to still be champion, but he voted for Pedro Morales, based on some of the tough opponents that Morales had faced during his two reigns.
BEST BET: Brutus Beefcake is twenty-nine years old, and has been wrestling for one year. His biggest achievement has been wrestling Hulk Hogan in Miami, FL. His immediate goal is to break into the WWF's Top Ten, and long-range goal is to win the WWF Title.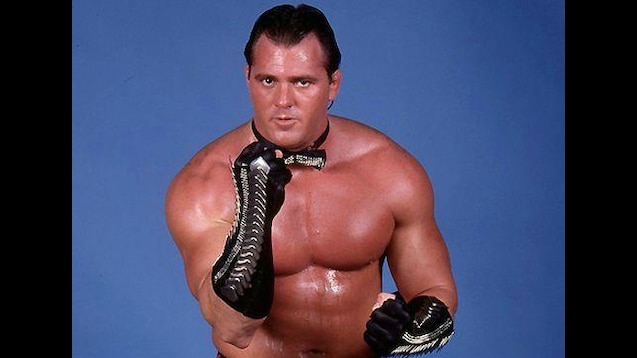 GOLDEN MOMENT: Eddie Graham taking his son Mike for a swim in 1960. Mike Graham was always a fast learner and a good athlete. He started wrestling in 1972. Eddie had most of his success in the 1950's teaming with his brother Jerry. Later on, he would change is attitude and begin promoting in Florida. Sadly, Eddie passed away in January of 1985.
INFO CENTER: Jamie from Hempstead, NY wants to know the qualifications to be a referee. The magazine refers to the NWA's Official Rulebook, which states that referees ought to be familiar with the rules and regulations of the sport, and also be of high moral character. Joseph from Los Angeles wants to know about some of the ratings that wrestling programs get from around the country. TNT on the USA Network was the highest rated program in October of 1984. World Class on KXTX-TV in Dallas gets a 10 rating and 27 share, and Mid-Atlantic has an 8 rating and 37 share in WBTV in Charlotte.
RATINGS AND ANALYSIS: Sgt Slaughter is ranked in the #2 spot in the AWA rankings this quarter, due to his heavy involvement in Pro Wrestling USA. Many also felt he should be in the NWA ratings, due to his receiving an NWA Title shot. But, the NWA ratings are held by the various regional champions. However, Slaughter does get a spot in the overall top ten, being ranked #8, and also is ranked #5 in the most popular category.
THIS JUST IN: Lelani Kai won the WWF Women's Title from Wendi Richter on 2/18 in Madison Square Garden. Cyndi Lauper manged Richter and Fabulous Moolah managed Kai. During a skirmish on the floor, Moolah sucker punched Richter to allow Kai to get the pin. Jerry Lawler will be challenging for the AWA World Title, when Rick Martel travels to Tennessee. World Class American Champion Chris Adams, and his manager Gary Hart, have signed an open contract to wrestle NWA World Champion Ric Flair. Captain Lou Albano will be an upcoming comedy film called "Wiseguys" along with Joe Piscopo and Danny Devito.
I was born on a cold winter morning in 1982......