Retro Reading Vol. 12: Wrestling 85 – Fall 1985
Before I begin the recap proper, I just need to take a minute to put over the cover and the headline of this magazine. People love to say not to judge a book by its cover, but how could anyone see this and not immediately get excited? Nine-year-old Mikey did the first time I saw an ad for this series, with this edition featured. 
OPENING BELL: Stu Saks also thinks very highly of the cover. He explains that the previous issues of this magazine were pretty straightforward. The subject is either brought to their studio, or the photographer managed to get a good shot of them while they were in the ring. No fuss, no muss. But, this was inspired by the cover of some recent boxing magazines. Photographer Chaz Fenn was assigned to get this shot. He brought the two teams together about an hour before their scheduled match at the D.C. Armory, and had then face off. It wasn't easy. While he was loading his camera, Ivan started swinging his chain and almost hit Road Warrior Animal in the nose. The fans in D.C. that night weren't disappointed with the match, and the people at Wrestling 85 weren't disappointed with the cover or the main story. In fact, they feel it's their best one yet.
FEEDBACK: Tom from Hicksville, NY doesn't seem to be the biggest fan of Gene Okerlund, pointing out how Gene uses a lot of the same phrases such as "Give Me A Break!" to describe various happenings. He thinks if one is able to master these same phrases, they'll be just as worthy of the tux. Joanne from Greenfield, WI would like to see the editors of the magazine come out with a Road Warriors special. They've had more than enough accomplishments, and Wrestling 85 and its sister publications had given Hawk and Animal the best coverage over the last two years. She had compiled her own scrapbook, which is now over 400 pages long, many of which are articles and photos from the magazines. Paul from Northbrook, IL wholeheartedly agrees with Peter King's stance on the WWF selling out by catering to the celebrity audience. He's been going to AWA card for years and likes what they provide, good matches and hard fought wrestling. He hopes that wrestlers like Jimmy Snuka and Paul Orndorff leave the WWF for the NWA or AWA. Carrie from Covington, OK loves Kerry Von Erich. She loves that he refers to fans as "his fans" rather than "the fans." She loves the bond he and his brothers have. She hopes to one day meet him, and personally tell him the profound respect she has for him and his family. Victor from Verona, NJ doesn't think that special referees are anything special. All they do is create controversy. Joe Frazier's stopping the match between Dusty Rhodes and Ric Flair, Michael Hayes' poor officiating in the Flair/Kerry Von Erich cage match, and Ron Bass' attacking Dusty Rhodes, while he was supposed to be the referee for Dusty's match with Harley Race for the NWA Title. He believes that only fully accredited referees should be able to do so. If this concept were applied, it'd cause a lot less controversy and feuds.
NEWSLINE: Some wrestlers were recently seen on Madison Ave in New York City shooting commercials. Sgt. Slaughter was doing one for Diet Coke, Paul Orndorff for a muscle relaxer, and George Steel (looking dapper in a turtleneck) for a personal computer. Wrestling 85 feels like this is just scratching the surface for what wrestlers could do. Magnificent Muraco could be the spokesman for Hawaiian Punch. Abdullah the Butcher for Perdue chicken, The Missing Link or the Road Warriors for Maybelline makeup, Captain Lou Albano as a model for Calvin Klein, and Jim Cornette for sporting goods! The Rock 'n' Wrestling Connection is now taking over Saturday mornings. This coming fall will see "Hulk Hogan's Rock 'n' Wrestling" hit the airwaves, causing mischief opposite of Bugs Bunny, the Smurfs, and The Jetsons. Liz Miller of DIC clarified that parents won't have to worry about their children seeing any of the violence that tends to go on in the sport, and that the worst thing they'll see is a pie fight. Interestingly enough, it's timeslot of 10:00 AM will place it opposite of WWF All Star Wrestling, and Saturday Night's Main Event will also be airing opposite of WWF's Championship Wrestling program.
Bill Watts is coming out of retirement. He'd suspended Skandar Akbar for burning Jim Duggan, but Akbar and his lawyers had the suspension lifting. Instead of fighting it out through the courts, Watts has decided to don the tights to get at Akbar and his stable. Brian Blair is back in the WWF. Jake Roberts and The Barbarian plan on challenging the Mid-South Tag Team Champions, Ted DiBiase and Jake Roberts. Kareem Muhammad helped Bruiser Brody attack Jerry Lawler in Memphis. They left Lawler bloody, and stole his crown. Dory Funk Jr. recently defended the WWC Title against Abdullah the Butcher, Dory says that matches like this one are making his think about retirement. Ivan Koloff is training his nephew Nikita in a specialized dungeon, where Nikita has no distractions at all. Muhammad Ali is the new spiritual advisor of The Snowman in the Mid-South area
IN THIS CORNER: Bill Apter placed a phone call to Terry Funk's house and heard this on the answering machine. "This is Vicky Funk, wife of ex-wrestler Terry Funk, wife of ex-entrepreneur Terry Funk, and soon to be ex-wife of Terry Funk if he doesn't get a job!" Although this is meant to be tongue-in-cheek, Bill realizes that Terry is being very smart. Most wrestlers don't realize how short their careers could be. A lot of athlete's careers are ending, when most other people are just starting theirs. Some wrestlers can get by on endorsements, like Hulk Hogan and Sgt. Slaughter. But, many don't have the full scope of things. Being independent contractors means no health care or pension plan. Some wrestlers are smart enough to take on outside interests when their time in the ring is done, such as the Brisco Brothers running a body shop in Tampa. Bill hopes that Terry Funk is able to be an example to all aspiring athletes, and teach them to guard against every eventuality.
MANAGER'S FORUM: Jim Cornette would like the wrestling fans to learn an important lesson. There is no justice in wrestling. That's why the Midnight Express are no longer World Class American Tag Team Champions. Referee Rick Hazard, who is blind in one eye and can't see out of the other, claimed that Cornette hit Bobby Fulton with his tennis racket. This is a complete lie. The Fantastics are capable of being beaten on their own, without Cornette. So the titles were held up. There was no reason for Cornette to be forced to sit next to Little John, 7'9" of stupidity and beer belly for the rematch at Texas Stadium. And, Dennis Condrey clearly pinned Tommy Rogers, but because that pin was counted by the second referee, David Manning, while Hazard counted a pin of Fulton on Bobby Eaton. Condrey's pin is null and void. Of course he's angry. Plus, Sunshine is trying to clean up Texas with the Great Kabuki and Hercules Hernandez. Cornette assures us that it's no coincidence that Hercules didn't make it to Texas Stadium. After all, Cornette managed him in the Mid-South area. But, maybe there will be justice in wrestling. Jim Cornette's justice!
CROSSFIRE: It's been one year since Chris Adams turned his back on the Von Erichs. Some see it as the smartest move of his career. More recently, Chris Adams has split with Gary Hart, which some also see as a mistake. Chris Adams disagrees vehemently with the latter. He never dreamed he'd have to get some much flak from the fans and the press as he did when he got out of the Von Erich's shadow. He realized that Gary Hart was an imbecile. He may have gotten shots at the NWA World Title while under Hart's tutelage, but he also got forced into an I Quit match, nearly got his eye taken out, and was on the receiving end of an attack from the One Man Gang. Now, without Hart or the Von Erichs on his side, Chris Adams is very much on his own. He's currently the World Class American Champion, which should put him in line to challenge for the NWA Title, but with the Von Erichs holding the real power, he's likely to get one title shot versus every fifteen or twenty that they might receive. But, Chris Adams is optimistic about his future. If the fans and the press can't see Chris Adams for who he is, that's their problem, not his.
SCOUTING REPORT: Rick Rude gets a B+ in speed, which is something he's not known for using a lot of. He only gets a C in his technical knowledge. Despite his inexperience, he's had a lot of success thanks to his speed, power, and guidance from his manager. His physical conditioning is graded A and his ring intelligence gets a C. He gets a B- overall, with notes that potential is great, but it rusts quickly. Rude tends to preen and show off, and rely on his manager to assist him when he gets in trouble. If he doesn't develop the eye of the tiger, he'll wind up being remembered as a cocky kid who could have been something great.
HEAD TO HEAD: King Kong Bundy vs. Jerry Blackwell Sgt. Slaughter has no doubt that Blackwell would win. Bundy is lost when he's on his own, he always needs a manager. Blackwell is an honorable man, and is easily capable of beating a hippopotamus like Bundy. Nick Patrick predicts a draw, because both men's greatest assets cancel each other out. Due to their rulebreaking natures, a double disqualification seems most likely. Kerry Von Erich doesn't think highly of either man. He's heard folks say that they move well for their size, but that's like saying burnt steak is good for being burnt. They both like to use a big splash, which he thinks takes as much skill as washing the dishes. But, having wrestled both men, he thinks Blackwell would win. Gordon Solie thinks Bundy would win, because he moves around the ring like a rabid dog, stopping at nothing. If they match were to happen, Blackwell would have to attack quickly, and speed isn't his strong suit.
SCOREBOARD: Kerry Von Erich beat the One Man Gang at Texas Stadium, as a result, Gary Hart had to have his head shaved. Magnum TA defeated Wahoo McDaniel to win the NWA United States Title in a steel cage match in Charlotte, NC at the Coliseum. Jimmy Snuka and Roddy Piper fought to a double disqualification after only six-and-a-half minutes in the Civic Arena in Pittsburgh, PA. Hulk Hogan traveled to Nagoya Japan and defeated Tatsumi Fujinami. On a Pro Wrestling USA Card in Setauket, NY Sgt. Slaughter beat Mr. Saito.
INTERVIEW 85: David Schultz will always be remembered as the man who slapped John Stossel on 20/20. Schultz's side of the story is that Vince McMahon warned him that a reporter was here, to mock the business, and that Vince wanted him to "blast him." Stossel asked if it was a good business, which he thinks it is. Then he said he was going to ask him a question, and said "I think it's fake." That's not a question, it's a statement. He tried to undo the eleven years of hard work that Schultz had done to get to where he is. So, he showed him how fake it was. He knows that he didn't actually hit his ear. The first slap was upside the head, and the second was in the jaw. Afterwards, he did feel regret for it, but at the same time, Stossel shouldn't have acted so stupid.  He was recently fired from the WWF after an incident with Mr. T. They had a confrontation a few months before, and Vince McMahon said that Mr. T's manager instructed him that Schultz no return to Los Angeles. But he doesn't run the city. Schultz missed a few shows, but did return. Jay Strongbow advised him that Mr. T may be there, and to ignore him. Schultz replied that if T tries anything, he's going to defend himself. As a result he was fired. He has a longstanding grudge with Hulk Hogan, going back to their days in Minneapolis. As far as wrestling goes, he doesn't think much of Hogan, he's a weightlifter and a body builder.
THE MISSING LINK IS A LOT MORE THAN A WRESTLING ODDITY Eddie Ellner received a surprise phone call from Percy Pringle, offering to give him all the details on The Missing Link. Ellner has been fascinated by him ever since he first saw him four years ago in New Orleans. Pringle and Ellner have known each other for a long time, before Ellner was with the magazine, and had always offered up pieces of info on the Link in exchange for plugs in the magazine. But, not long after Pringle called, Bill Apter advised him that Link had recently left Pringle's services and was in the WWF managed by Bobby Heenan. Ellner saw Link's debut in Madison Square Garden, where he wrestled SD Jones, who stands 6'1" and weighs 250, and put up little to no resistance to the Link's punishment. Ellner asked Akbar about the most dangerous man in wrestling, and without any hesitation he said it was the Link. He no longer manages him, and doesn't want to. What will happen with the Link in the WWF is as much of a mystery as the man himself.
THE KOLOFFS vs. THE ROAD WARRIORS: WORLD WAR III BEGINS! The boasts that come out of the mouths of Hawk, Animal and Paul Ellering about being unbeatable, and wanting some real competition has become fabric of wrestling, right alongside Slaughter's patriotism and the Von Erich's clawhold. But this is a real question. Who can beat the Road Warriors? They've been AWA Tag Team Champions since August of 1984, and many teams have tried and failed to beat them. They went to Japan and ran roughshod over those teams, and then came back to the AWA, and started running through those teams again. But one team is confident that they can do so. Ivan and Nikita Koloff. Many people think Ivan's best years are behind him, but, even if that's the case, he's still a master tactician in the ring. Young Nikita has less than two years of experience, but with his uncle's guidance, he's already achieved more than a lot of wrestlers do in five years. On April 18th, these two teams met in Washington, DC and wrestled to a double disqualification. Paul Ellering was the first to point out the strengths of the Koloffs. For supposedly being over the hill, Ivan is in great shape and he can still do a lot in the ring. Nikita has many of the traits that endeared him to Hawk and Animal, and he wouldn't mind one bit of Nikita wanted to join the Legion of Doom. Ivan Koloff points out that they're the NWA Tag Team Champions, and the best team to ever come out of Russia. The combo of his intelligence and Nikita's power will ensure that they're going to be champions for a long time. Both teams seems to be on a collision course. This is a certifiable dream match that neither team is likely to turn down. The only result can be mutual annihilation, unless one of them backs down. And neither team seems like the sort that would back down from a challenge.
"I WAS NEVER SO SCARED OF A MATCH IN MY LIFE!" – RIC FLAIR COMES CLEAN AFTER WRESTLING KEVIN VON ERICH  Kevin Von Erich challenged Ric Flair for the NWA World Title at Texas Stadium on May 5th. Ric Flair is usually calm and confident in his title defenses, but not so on this night. On the flight to Dallas, Flair enjoyed being the resident celebrity on the plane, and graciously signed autographs for the other passengers. But, once he landed in Dallas, he felt as though he was the most despised man in the state. Flair let Von Erich do most of the talking at the press conference. When Flair was asked about his loss to Kerry Von Erich last year, Flair yelled that it was a year ago, and that there is no Texas curse. The match lasted about twenty minutes. Von Erich knows that Flair is a notoriously slow starter, so his plan was to keep the match moving fast and get Flair tired out. Flair knows that everyone can small fear, so he did his best to project confidence, right down to laughing whenever Von Erich got him in trouble. The end result was a double count out, when Von Erich gave Flair the Iron Claw on the floor, and the roar of the crowd didn't allow either man to hear the referee's count. Afterwards, Von Erich admitted that Flair's demeanor and laughs threw him off his game. When a fan asked Flair when he was coming back to Texas, Flair answered that it wouldn't be for a while, because he had to contend with Nikita Koloff. The fan asked if Flair was worried about the match, but Flair just laughed "Me? Afraid?"
A FLAIR FOR HARD WORK – After getting past his May 5th match with Kevin Von Erich, Flair said he needed about a month to recover. But, he didn't even get a single day. Out of thirty-one days in that month, Flair was on the road of twenty-eight of them. He only had one match in his home territory, the Mid-Atlantic region. His challengers ranged from Mike Graham in Florida, to Bob Armstrong in Mobile, AL, to Harley Race in Kansas City, MO. Plus, challenges from rivals like Kerry Von Erich and Dusty Rhodes, who always push Flair to his limits. Promoter Jim Crockett says that being the champion gives Flair a lot of responsibilities that most fans can't even begin to understand. Flair agrees, and says that he wrestles challengers ranging from scientific wrestlers to outrageous rulebreakers, so he can never prepare for a single kind of opponent. Flair enjoys his status as wrestling's hardest working man, as long as everyone realizes that he's the hardest working man because he's also the best champion. He'd love to have time off, but that would mean he wouldn't be in demand. His schedule for June won't be as hectic as May. There are only thirty days in June.
WRESTLING RETURNS TO NETWORK TV – Until recently, the only way to watch wrestling on television was to twist the UHF loop on the back on the TV in every direction, and hope that you could watch the program without a lot of static interference. NBC aired "Saturday Night's Main Event" on May 11th at 11:30 PM Eastern Time. The show was largely considered a success. The crowd was roaring the moment the broadcast started (Vince McMahon announced over the PA that he wanted to hear some noise from the fans), although many viewers weren't happy with the frequent cutaways for commercial breaks. The event was prerecorded from the Nassau Coliseum, so no action was lost from the breaks. The show itself saw Hulk Hogan defend the WWF Title against Bob Orton, with Roddy Piper, Paul Orndorff, and Mr. T all getting involved. A six man tag between Ricky Steamboat, Mike Rotundo, and Barry Windham against Iron Sheik, Nikolai Volkoff, and George Steele, and Wendi Richter (with Cyndi Lauper) defend the WWF Women's Title against the Fabulous Moolah. Unfortunately, despite the great action, there was plenty of the Rock 'n' Wrestling Connection, which wrestling purists find so putrid. Lauper is clearly not a real wrestling manager, and has no business trying to tell a veteran like Richter how to beat another veteran like Moolah. There was also a Cyndi Lauper music video for the film "Goonies" which showcased, Lauper, Albano, Hogan, David Wolff, Piper, Freddie Blassie, Iron Sheik, and Moolah. Why would all these people, who have real dislike for each other, cooperate for a music video? Why is Vince McMahon allowing his wrestlers to do this? It's yet to be determined in Saturday Night's Main Event will become a regular series on NBC. It did the best ratings of any special in that timeslot since 1981. If the WWF sticks to basic wrestling, then it will undoubtedly be a success. If the series is only another reason for the WWF to pander to the entertainment crowd, then it will hopefully die a quick death.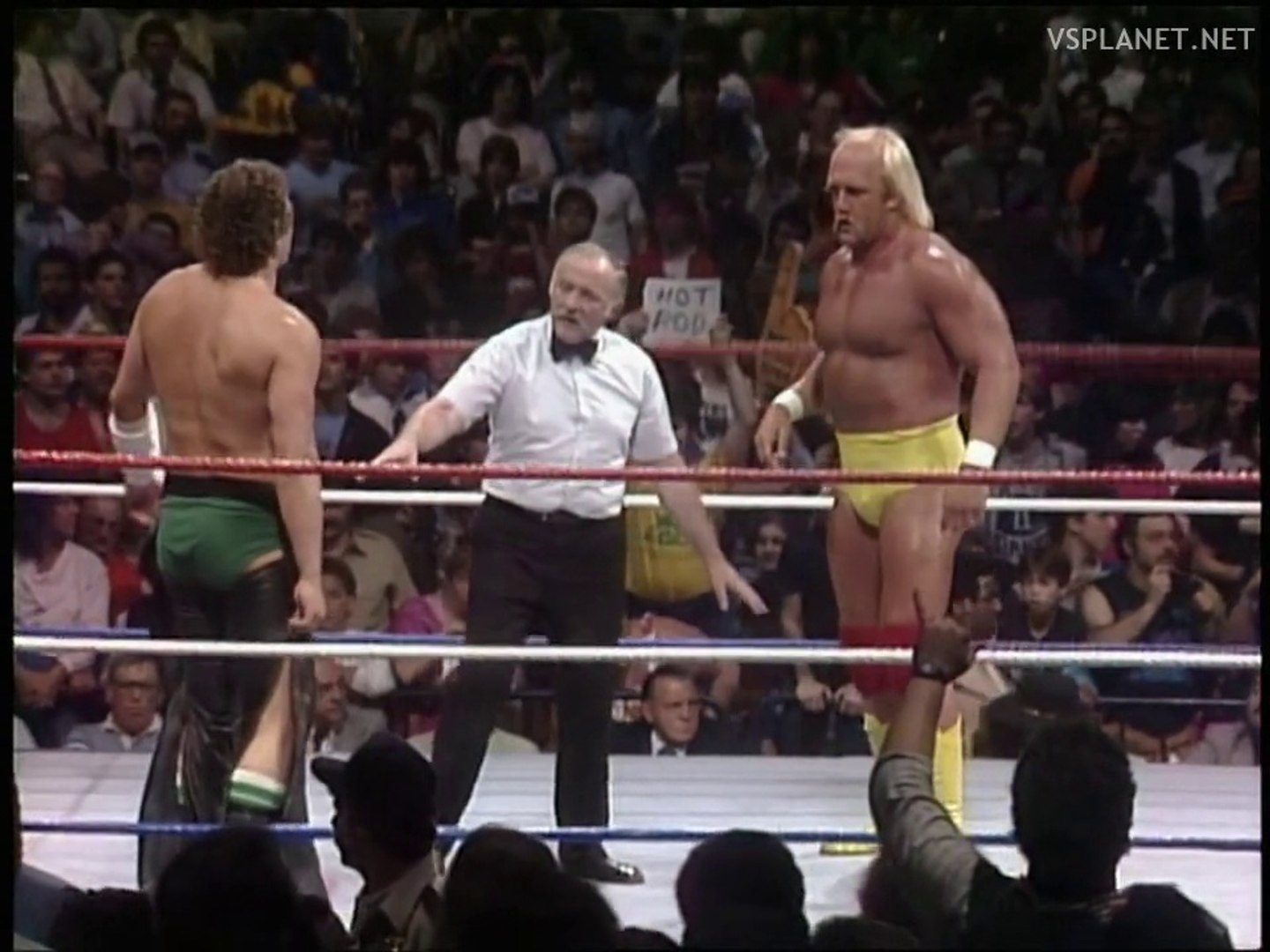 THE PRIVATE SIDE: Michael Hayes took a break from the ring to attend one of his favorite events, the strawberry festival in Tampa, FL. Hayes admits that he always has a good time at the festival, and as much as he loves Atlanta, he also loves getting away and having a good time. While he was there, he played several video games and skill games. Photographer Bill Otten, who accompanied him, remarked that he's not good at the game where you have to throw the dart and pop the balloon. Hayes had three darts and popped three balloons. Gordon Solie was also in attendance, and Hayes bet him dinner that he'd pop three balloons first. But, Solie isn't a betting man and didn't take it. At the end of the night, Hayes jumped on his motorcycle and said nothing was better than the feeling of riding home after a night of partying.
YOU DECIDE: Are referees too lenient? It's happened all too often to fans who attend live events. They've sat through a couple hours of preliminary matches, paid good money for tickets and concessions, and finally it's the main event. After six minutes, the challenger unleashes a big forearm that sends the champion out of the ring. But, the bell rings, because the champion has fallen over the top rope and it's an immediate disqualification. The same match happens a month later, this time the forearm shot doesn't result in the match being over. They fight on the floor and use chairs, the ringside table, and the ringpost. The challenger's manager interferes, and the match ends with the referee's only official act being counting the winning pinfall, long after he should have stepped in.
Reasons that the referees ought to be so lenient include the fans, who pay good money to see the show. There is also some judgment to be made. Rulebreakers are obviously better at hiding their illegal tactics. When a fan favorite tries to simply return the favor, he's almost always caught and punished. The result of a disqualification also creates bad feelings all around. The wrestlers ought to be able to have their match and have it reach a satisfying conclusion. Reasons why they ought to not be so lenient include the potential danger. If things get out of hand, it can be difficult to reign things in, and a an out-of-control 250 lb man can cause a lot of damage. There are rules for a reason, if they're broken, there should be swift consequences. Without rules being enforced, the integrity of the sport is damaged. Crowd control is another concern. Fans can accept it if their favorite loses cleanly. But, when they see their favorites cheated out of a win, and a referee clearly not doing his job, it can lead to then becoming unruly and rioting.
The votes are in, and it's been decided that Captain Lou Albano can be trusted, although people should keep a close eye on him. Stephen from Columbia, MD remembers when Ole Anderson changed his ways and became a fan favorite, only to turn back into a rule breaker by attacking his partner Thunderbolt Patterson. Keith from Long Island, NY is shocked anyone would doubt Albano's intentions. Gretcher from Greenwich, CT was wary at first, but after seeing all of Albano's efforts to raise money for the Multiple Sclerosis foundation, is now fully supportive of him.
BEST BET: The Barbarian is twenty-five years old, with less than one year of wrestling experience. His biggest match to date was a match in Shreveport, LA against Butch Reed. His immediate goal is to win the Mid-South Tag Team Titles with Jake Roberts. Long-term, he simply wants to hurt as many people as possible.
GOLDEN MOMENT: Roddy Piper wrestling in Los Angeles in January of 1976. Most fans only know of Piper from his recent exploits in the WWF. But, he's been wrestling since 1970. He started wrestling in Canada and for the AWA, before moving around to Kansas City, Quebec, Texas, the Pacific Northwest, and also California. Despite his rule breaking nature, he's a good wrestler, and once won the Jules Strongbow Scientific Wresting Trophy.
INFO CENTER: Richard from Denson, PA wants to know the strangest ending to a match. A wrestler by the name of Stanley Pinto once got entangled in the ropes, and pinned himself. Mike from Boston, MA wants to know about Ken Patera holding the WWF Intercontinental Title and the Missouri State Title. Patera actually won the titles four days apart from each other, and defended both of them regularly. He lost the Missouri Title on November 21st of 1980, and the Intercontinental Title soon afterwards on December 8th.  Ralph from Baton Rouge, LA wants to know how far back the sports actually goes. There are depictions of wrestling holds on the tombs of Pharos from Ancient Egypt. Contemporary wrestling goes back to about 1860, when Greco Roman wrestling was introduced. Cyndi from St. Louis wants to know when the WWF, AWA, and NWA were formed, and who the first champion was. The WWF formed in 1963, with its first champion being Buddy Rogers. The AWA formed in 1960, with Verne Gagne being recognized as the first champion. The NWA is the oldest, with Frank Gotch being the first champion, crowned in 1905.
RATINGS AND ANALYSIS: The magazine has received several letters asking how the Top Ten and the Tag Team ratings are determined. It's done by a committee of the editors, ranking those they feel were the best in the sport based on their accomplishments over the past quarter. Having a title belt doesn't automatically put one wrestling in a higher position. The categories for the various regions are done with input from the promoters and the local reporters who regularly cover the matches. The NWA ratings are based on the champions in NWA regions, and also those wrestlers that the NWA has deemed to be top challengers.
THIS JUST IN: Wrestling 85 contacted Vince McMahon about the comments David Schultz made in this edition of "Interview 85." McMahon had two days to respond before the press date, and declined to do so. They also spoke with John Stossel's lawyer, Bob Kellner, about the lawsuit. The suit hasn't been filed because Schultz couldn't be located to be served. Stossel's condition hasn't changed, and the damage is said to be permanent. Rick Rude is back in the ring, after being injured by Blackjack Mulligan. Rude feels that Mulligan intentionally injured him and wants revenge. While he was injured, Rude's matches were taken over by Hercules Hernandez. Terry Taylor lost the North American Title to the Nightmare. Ric Flair promised $10,000 to the Nightmare if he could win the title from Taylor. Flair and Eddie Gilbert were both at ringside for the match. When it was clear that Nightmare wasn't going to be able to win, Gilbert distracted the referee while Flair loaded something into his mask, allowing Nightmare to pin Taylor after a headbutt. Little John, who has been acting as a bodyguard for the Fantastics, while training for his own wrestling career, has put it on hold. Bobby Fulton explains that his size makes things more difficult while training, so there's no need to rush things. At the moment, it looks like Little John will make his debut sometime in 1986.
I was born on a cold winter morning in 1982......