Retro Reading Vol. 5: Wrestling 84 – Summer 1984
A look inside the Summer 1984 edition of Wrestling 84!
OPENING BELL: Stu Saks is very disturbed by Craig Peters' article "USA-USA: The chant that makes foreign wrestlers unbeatable." He thinks that the article was well researched, and superbly written, but it has no place in a sports magazine. Wrestling is truly the only international sport, where competitors from all over the world meet on a regular basis. Soccer is the most well known sport in the world, but, only in the World Cup and in the Olympics do teams from other countries play against each other. The Iron Sheik is a great wrestler, but, he's hated for waving a flag with the picture of the Ayatollah. Sgt. Slaughter used to be hated for his brutal wrestling style, but, now that he's defending the country, he's loved, even though he's wrestling the exact same as before. Wrestling and politics is an ugly mix that only the wrestlers, and the fans, can prevent.
FEEDBACK: Jerry from Cincinnati loved the article from last quarter about the Road Warriors. Brendan from Baltimore recently saw wrestlers from Georgia in his hometown, and the fans were very excited to see new wrestlers like the Road Warriors, Pez Whatley, Wahoo McDaniel, and Ronnie Garvin, and he thoroughly enjoyed the action. Scientific wrestling is boring, and he suggests those who want to reform the rules should go to their local high schools and watch amateur wrestling. Debora from Lantana, FL agrees with Bobby Heenan's stance in last quarter's "Managers Forum" but she feels that the fans are actually the most important people in their lives, because without the fans plunking down their honest dollar, people like Heenan wouldn't have jobs. Walter from Lafayette, LA doesn't like Mr. Wrestling II's recent comments that Lanny Poffo cannot be trusted, just because of who his family is. Lanny Poffo is a scientific wrestler, who doesn't hide who his father and brother are. Mr. Wrestling II hides his face under a mask. Tommy Rich from Hendersonville, TN loves Wrestling 83 and Wrestling 84, the photos are excellent, and he loves the reporting. He thinks the magazine is the best! Janice from Ft. Lauderdale was in the crowd when Dirty Yellow Dog unmasked as Barry Windham, and beat Ron Bass. She feels that Barry has put his issues with Ron Bass behind him, and now he can concentrate on winning the NWA Title from Ric Flair.
SCOREBOARD: Nick Bockwinkel defended his AWA World Title against Dino Bravo in Montreal, but was disqualified. Kamala was also disqualified against Junkyard Dog in Ft. Worth, when Skandar Akbar and Friday attacked JYD, to stop him from slamming Kamala. The One Man Gang and Blackjack Mulligan had a double disqualification in West Palm Beach, with nearly the entire locker room trying to keep them separated. Ted DiBiase pummeled Johnny Rich's face with his loaded glove in the Omni in Atlanta, until the masked Mr. R hit the ring to run him off.
THE PRIVATE SIDE: Jimmy Valiant and his wife Felicia live in Marina Del Rey, CA and also have homes both in New York and North Carolina. They decorate their homes with various things that they've obtained while Jimmy wrestles, including figurines from Europe and Asia. Jimmy's most prized possession is a painting of himself as a Centaur, which was done by his friend Jerry Lawler. Although he always considers New York to be his home, he loves living in CA.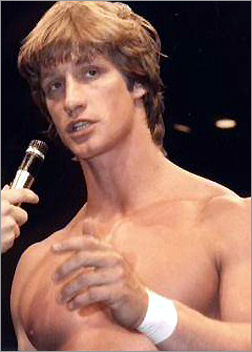 THE NOT-SO-PERFECT WORLD OF KEVIN VON ERICH: A lot of people think that Kevin Von Erich has the perfect life. He's a great wrestler, he's in excellent shape, and he's very popular. But, Kevin's life isn't what it seems His training regimen leaves him in a lot of pain, he'd like to just wake up, roll over, and go back to sleep. But, he can't train when he wants to, he needs to train. When he goes to a restaurant, he usually has to sit in the back corner where he won't be recognized. It's not that he doesn't like the fans, he'd love to be able to spend all his time with them and get to know them personally, but his schedule is too busy for that. He also feels constant pressure for success because he's a Von Erich, maybe if he was named Kevin Wilson or Kevin Kelly, it wouldn't be this way, but he feels like he needs to be perfect every time. The most pressure he's ever felt was being the Missouri State Champion, he had a full schedule of title defenses, he was a ranked challenger for Harley Race and the NWA Title, and he still had feuds in Texas to worry about. When he's asked why he doesn't take some time off to relax, his only answer is "I wish I could."
THE YELLOW ROSE OF TEXAS: Craig Peters called Kevin Von Erich to offer condolences on the passing of his brother, David. When the phone rang at 4:00 AM, Kevin knew it wasn't good news. The whole family was stunned by the news, and Kevin cannot thank the fans enough for their cards and letters. David used to carry a yellow rose to the ring, kiss it, and throw it into the crowd. Now, whenever Kevin sees a yellow rose, it's going to make him think of David.
GREG VALENTINE: "WHY DID DICK SLATER BETRAY ME?" Greg Valentine was scheduled to defend the U.S. Heavyweight Title against Roddy Piper in a no-disqualification match in Shelby, NC. Piper missed his plane, and Dick Slater, who is the Mid-Atlantic Champion, demanded the title shot, since he's the #1 contender. The Mid-Atlantic officials relented and Valentine was told that if he didn't have the match, he'd be stripped of the title. During the match Bob Orton rushed the ring, and when Valentine went after him, Slater gave Valentine a knee to the back, and a belly-to-back suplex and pinned him. Valentine demanded a disqualification, but the contract called for a no-disqualificaiton stipulation. In wrestling, there are mostly acquaintances, very few good friends, and Slater doesn't think that Valentine is a good friend. Valentine, thinks Slater would have shoved his own mother down the stairs for a title shot. Real men win titles in the ring, not play games with contracts, and Valentine doesn't think Slater is much of a man.
"U-S-A U-S-A U-S-A" – THE CHANT THAT MAKES FOREIGN WRESTLERS UNBEATABLE: The term "foreign" doesn't necessarily apply to the country of origin, wrestlers like Ronnie Garvin, Andre the Giant, and Ivan Putski aren't from this country, but this isn't about them. Wrestlers like Crusher Darsow, Jerry Blackwell, and Ken Patera are from this country, but they've adopted an anti-American attitude, and that's what this article is about. While the fans from all areas of the country are chanting "USA" at them, these wrestlers are actually laughing about it, because they don't care what the fans think. Crusher Darsow says that they're too stupid to understand that the chant only motivates him, because he sees how much he's getting under their skin. When Shiek Adnan Al-Kaisee hears the chant, he laughs, because it tells him that the Americans are blindly following a government who has placed its uncertain future in the hands of oil businessmen. Gordon Solie doesn't think that the fans should stop showing patriotism, but that they should understand that it may have unwanted effects.
TED DiBIASE – DISGRACING HIS TITLE . . . AND HIMSELF: An old Chinese proverb says to "Beware of the decent man trying to be cruel." The idea is that a person who is truly cruel doesn't need to do anything to prove it, but, the one who really isn't cruel at heart, will feel the need to show his cruelness over and over. Ted DiBiase used to be a decent man, but not anymore. He's broken Bob Armstrong's face, and he's run Tommy Rich out of wrestling. Armstrong and Rich both say that he's a disgrace to the National Title. DiBiase makes no apologies, he used to appreciate the idea of wrestling being a sport, but, now he sees that all that matter is how much money he can make, and he's making a lot of money now. If he has to break some bones or end some careers along the way, he's fine with that. But, despite his claims, it's easy to see that DiBiase isn't really happy, watching him leave the arena with his head down and shoulders drooped shows his unhappiness. After his matches, he stands in the ring looking angry, as opposed the old days when you could see his delight. Why DiBiase wants to disgrace the National Title is unclear, maybe he feels like he can't be the most popular wrestler, so he'll be the most hated. But, the only question is whether any man has ever had so much success and seemed to enjoy it so little.
YOU DECIDE: Should wrestling adopt weight classifications? Wrestling is one of the few combat sports that doesn't have weight classes. In wresting, everyone is a heavyweight, and, if you're under 175 lbs, it's generally accepted that you'll have a tough time in the ring. If you're like Andre the Giant, you may need to wrestle two men at once for some competition. Would adopting weight classes help or hurt the sport?
The pros are that doing so would take away unfair advantages for the bigger wrestlers. It would help prevent serious injuries, like the one suffered by 222 lb Eddie Gilbert at the hands of 282 lb Masked Superstar. And that it would create more opportunity for people to get into the ranks of wrestling. The cons are that it would limit wrestlers with the amount of opponents that he could wrestle. That it would limit competition, since one way of improving is to wrestle against a bigger, and stronger, opponent. And, that it hasn't been adopted before, and doing so now would tarnish the image of wrestling being larger than life.
The votes are in and the readers of Wrestling 84 have decided that Chain Matches are good for the sport. It was a narrow margin, but 54% voted in favor of them. Chet from Elk City, OK pointed out that matches like that do serve a purpose, and while people like Ivan Koloff abuse the chain, they are exciting and help settle feuds. Matt of Uniontown, PA spoke for the minority, saying that if he wanted to watch senseless violence, then he'd find two winos fighting at 3:00 AM, and would throw them a chain. Wrestling is supposed to be a sport. The results of the poll, and comments have been forwarded to the various commissioners and officials in the country.
BEST BET: Tommy Rogers is twenty-two years old with about a year-and-a-half experience. His biggest moment was winning the U.S. Junior Heavyweight Title from Bill Ash, and he hopes to bulk up and challenge for the NWA World Title.
GOLDEN MOMENT: Jack Brisco gives Dory Funk Jr. a headlock, Brisco and Funk had a long feud during the 1970's, which spread from Texas to Missouri, to Florida, and beyond. The feud intensified when Brisco won the NWA Title from Harley Race due to Dory's jealousy.
INFO CENTER: CJ from Ft. Washington, MD wants to know if Greg Valentine is related to Johnny Valentine. They are father and son. Stephen from Columbia, MD wants to know when the NWA was first formed, which was in 1948, and who the first champion was, which was Orville Brown. Jennifer from Des Moines, IA wants to know if it was true that the AWA Title was once stolen, which is true, the belt was stolen in 1975. The thief was caught, but the belt wasn't recovered. Judi from Geneseo, NY wants to know how much Haystacks Calhoun weighed, and if he was ever slammed. He weighed in at 601 lbs, and Bulldog Brower claims to have done it, but no documentation of it, but, there is a photo of Bruno Sammartino lifting him up.
RATINGS AND ANALYSIS: Two big changes to the ratings this quarter. Three-man teams, like the Freebirds, will no longer be ranked. The idea is to rank them based on merit and skill, and there have only been a few three-man teams, so ranking them against conventional teams isn't fair. There is also a new note that reads "For Period Ended February 22, 1984″ – this is because there is always so much happening, and the ratings don't always match current events. By providing a date, it gives the reader an exact idea of the time frame. So, if the NWA or WWF Title were to change hands on 2/23/84, it wouldn't reflect in the ratings until the next issue.
THIS JUST IN: Jumbo Tsuruta captured the AWA Title from Nick Bockwinkel on 2/22 in Tokyo. The Fabulous Ones have left the Mid-Southern area following an argument with their mentor Jackie Fargo. Fargo plans on forming a new tag team, while Keirn and Lane are headed to the AWA. Mid-South North American Champion the Junkyard Dog is headed to the Mid-Atlantic area, he's hoping to win the U.S. Title from Dick Slater, and then defeat Ric Flair to become the first Black NWA Champion. Lou Albano appeared in a music video with Cyndi Lauper, and they are expected to appear on the Tonight Show with Johnny Carson and Late Night with David Letterman. Albano is currently working on a second video with Lauper.
I was born on a cold winter morning in 1982......